The top race course mapping sites
Published 7 April 2023
Your race's website needs an interactive map. There are a handful of options, each having pros and cons. In this post, we'll go through each of them, what we see, and how they compare, so you can find what is right for you.
Full disclosure to the reader: we at HelloDrifter provide the best maps. But that doesn't mean we are the best tool for your needs. We'll be straight with you in discussing the many available alternatives so you can choose what works for you. Since we think we are the best, we might as well start off by setting the standard you can compare against other tools. But aside from that, the order here is random and does not reflect a preference.
1. HelloDrifter
Pros: Best feature set by far. Endless customization to best present your race. Cons: Not free. You can try it out no credit-card required. Commercial plans start at $7/month.
HelloDrifter is specifically designed for race directors and others sharing outdoor adventures. It provides tools for you to create courses and allowing you to either embed them on your website or just have a single page that serves as a stand-alone map.
HelloDrifter by far provides the most features of any mapping tool out there. A non-exhaustive list:
Elevation chart
Elevation projected onto the map
3D terrain
Surface details (showing wide vs. narrow tracks, and road, dirt, or gravel)
Points of interest (e.g., aid stations) with detailed notes, (shown on both the map and the elevation chart)
Multiple courses on a single map
Course animation (helps show the flow and direction of the course)
Distance markers (interval fully adjustable)
Immediate GPX download
Display course statistics (e.g., elevation gain)
Easy to change course, and changes immediately propagate to your website's map.
No limit on the number of embedded maps.
Very minimal branding (you'll see a tiny "Powered by HelloDrifter" at the very bottom).
Many of these features you won't find anywhere else. On top of that, HelloDrifter has a robust "style" editor, which lets you customize the color and transparency of everything on the map, the theme of the map (e.g., satellite vs. topographic), and the how the points of interest look.
See for yourself in the demo map below. Click on the buttons on the right to toggle various features. Cycle through the available courses in this map using the select in the top left. Just below that, you can cycle through various styles to see the depth of customization available.
HelloDrifter comes with great documentation on how to set this all up; but if you are overwhelmed you can always reach out directly and have us build out your maps for you. We'll need some help from you, but we can usually turn complete requests in a few days.
You can get started and explore HelloDrifter for free, no credit card required. If you think it would be a good fit for you, you can sign up for one of our Pro plans here. Our Starter plan starts at $7 per month. That comes with 500 free monthly map loads (i.e., when someone loads your course in a browser). After that, a 1¢ per map load usage fee is applied. If you have a bigger race (such as a road marathon) or a large series of races, we recommend the Premium plan, which is $30 per month, comes with 5,000 free monthly map loads, with usage thereafter being 0.7¢ per map load.
Some people get worried about usage, but the cost is usually nothing or negligible until the month of your event, when usage goes up – but in our experience costs are still modest. You can even cap your usage if you are concerned about runaway costs. You can read all about usage (why we charge it, what typical costs are, and how it works) here.
2. Elevate My Race
Pros: Provides course and elevation features. Priced at $125-150 one-time-fee per course. Cons: Display is very basic, no customization. Not clear if fee required to change course between years.
Elevate My Race has been around for a few years with a product that focuses on race directors. It includes an elevation chart, points of interest (though with limited detail), and course stats like distance, elevation gain, etc. It also has a neat feature that allows you to focus in on a section of the course by clicking on the elevation chart, displaying stats just for that portion.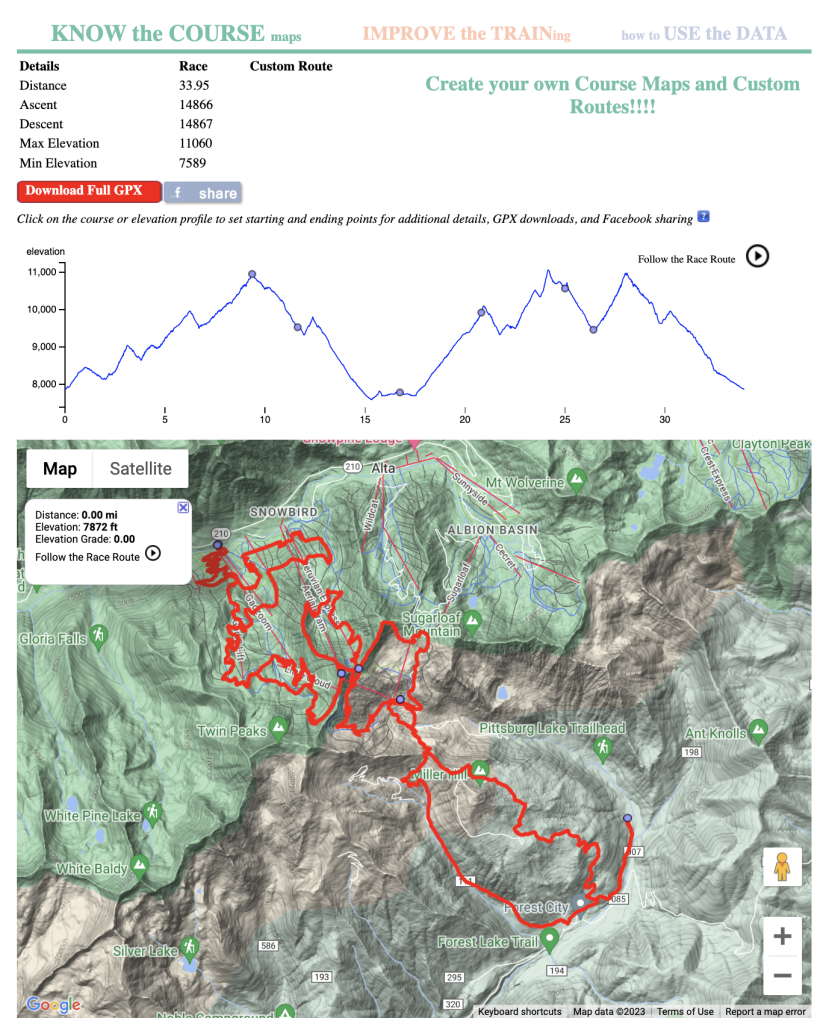 You can see an example here.
The feature set is limited, and there doesn't seem to be any way to customize the style (which would be a big plus as its current form is an eye sore). But the price can make sense for some race directors, as they charge a one-time fee of $125 or $150 per course (depending on the package you choose). If you have multiple courses, they offer a discount, but you need to ask for a quote. It's not clear how course changes are handled, or if that requires a new fee.
3. Ride with GPS
Pros: Decent feature set, clean and simple presentation, great route plotting tool. You might be able to create your course without paying. Cons: No advanced 3D features. No customization options. Heavy branding.
Ride with GPS was started in 2007 and focuses on tools for the biking community. The core product includes route planning tools, a mobile app to track your ride, and some publishing tools so you can share your ride. That last part includes an option to embed a map on your website.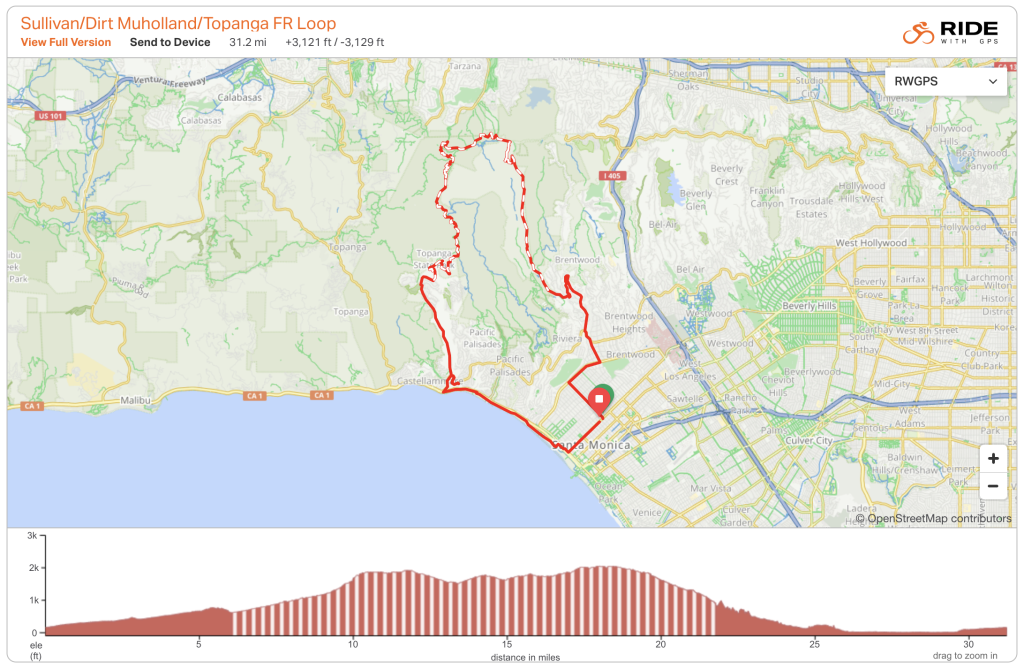 We like that it has a simple, clean look. It also provides some basic surface information, which is rare. Maps include basic point of interest functionality. The route plotting tool is also very good. Best of all is that this embedding functionality is mostly free. While you can create a rudimentary map with the free plan, perks like points of interest requires you to sign up for one of their upgrade packages at either $8 or $10 a month.
This site is primarily designed as a platform for cycling enthusiasts, so the customizations are very lacking and the branding is in your face. It also doesn't have any advanced 3D mapping features. But it is a solid option for people who want a good, simple map.
4. plotaroute.com
Pros:OK feature set, good route builder. Very reasonable cost. Cons: No advanced features, no customization, features somewhat hidden in the UI.
The plotaroute.com site does as its name suggests. It focuses on providing mapping tools to allow people to plot routes and save them. (The route building tools do appear to have many features, but there is so much going on it can be a little overwhelming.) It also allows you to embed your routes on a website.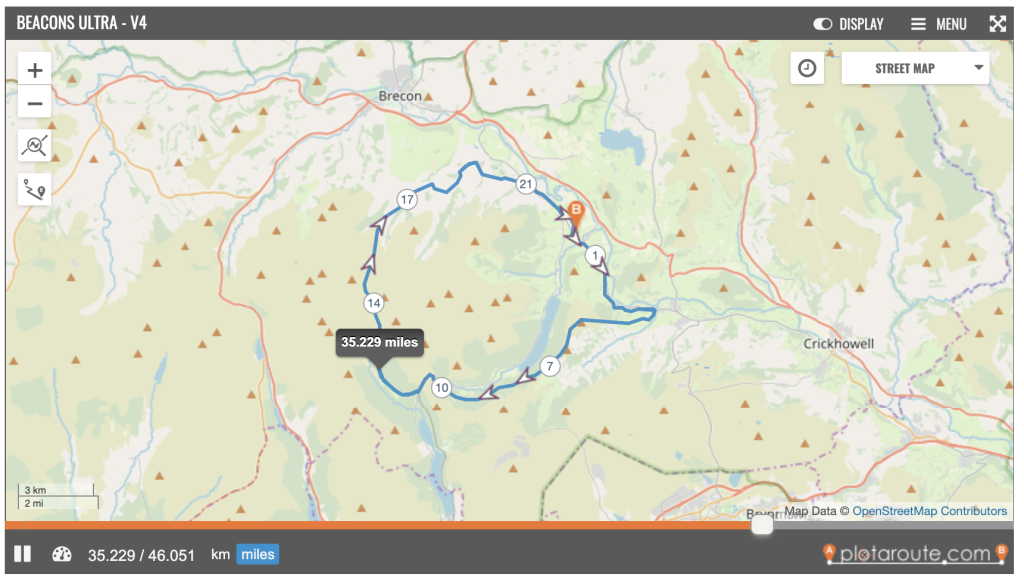 Similar to Ride with GPS, the map layout is simple and pretty clean. It has a similar feature set, but you wouldn't know it by looking at it. For instance, you have to click on the "MENU" button on the top-right to find a toggle for the elevation chart. Finding surface details requires you to click the "DISPLAY" button at the top. Chances are people visiting your maps will miss that too. There are also no customization options, and the branding is heavy.
On the good side, the price is great. You can create longer courses on the platform and embed for $26 a year.
5. Caltopo
Pros: Advanced route plotting, great pricing options. Cons: Overwhelming maps, visually hard to understand.
Caltopo is one the more popular options you'll find for course maps. Caltopo started off providing backcountry maps, and was (and is) used by search and rescue teams. It brands itself as providing "adventure planning software". As map geeks, we love a lot of the gritty features it provides, like daily satellite images, snow depth, stackable layers of data. The course builder tool is very advanced, supporting all kinds of "objects" to place on the map. However, it takes a bit of practice to get the hang of it.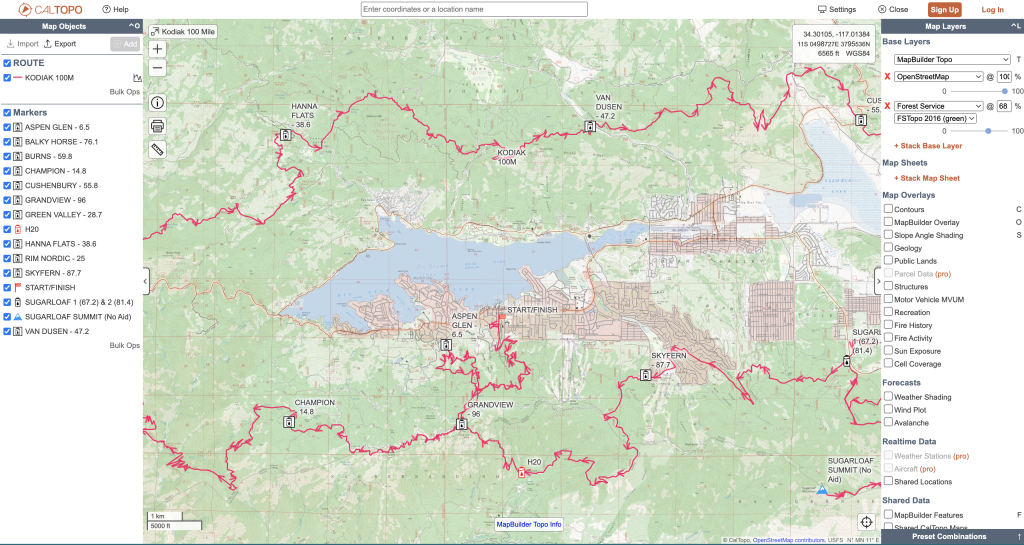 The screenshot above demonstrates how its maps are geared towards power users – there is a lot going on! The maps also support elevation charts, but you have to click the "graph" icon next to the route "object" and it will pop up. Caltopo becomes a difficult choice for race courses because the maps are hard for a lay person to understand. There also aren't any immersive features like 3D terrain. You can find the interactive version of the above map here and see for yourself.
Caltopo offers a few subscription options, all reasonably priced going up to $100 per year. But they provide mapping tools to get you started for free, and if you find Caltopo's presentation adequate for your purposes, you might be able to get away without paying anything.
6. RacePoint
Pros: White-glove service, maps come with your branding. Cons: No elevation chart, expensive.
RacePoint is a Canadian company that focuses on larger marathon events. As we understand it, they provide a relatively white-glove service in that you provide course details to them, and they turn it around into a course map for you. Their maps have some neat features like supporting multiple courses on the same map, custom images for points of interest (such as an image for a sponsor), and showing road closures (anyone who has ever attended a marathon can appreciate this one). Another great win here is that their maps are fully branded with your logo.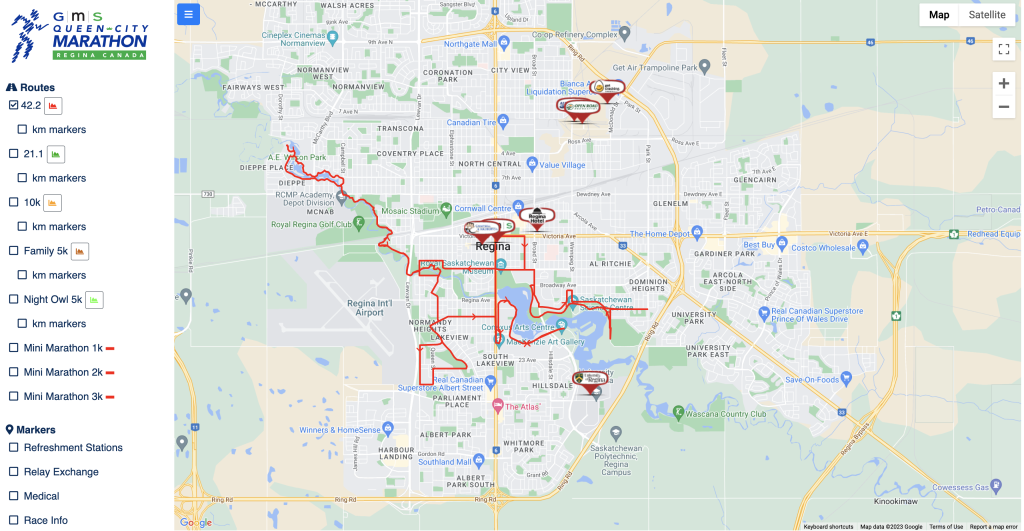 The maps (an interactive sample here) don't provide anything beyond these basic features; no elevation chart, no GPX download. The cost is also quite high, minimum of $400 per map – but they actually charge per runner, so your actual cost out the door can be substantially higher.
7. Strava
Pros: The price is reasonable. Great route builder. Cons: No interactive map embed, Strava wants your users to go to their site.
Most people are familiar with Strava, the Instagram of the endurance sports world where athletes share their runs and rides. Strava supports route building with a fantastic tool for plotting a course. Strava maps provide all sorts of advanced features like 3D terrain. However, Strava doesn't let you embed the interactive map directly, but will give you an image that invites users to click and be redirected to their site.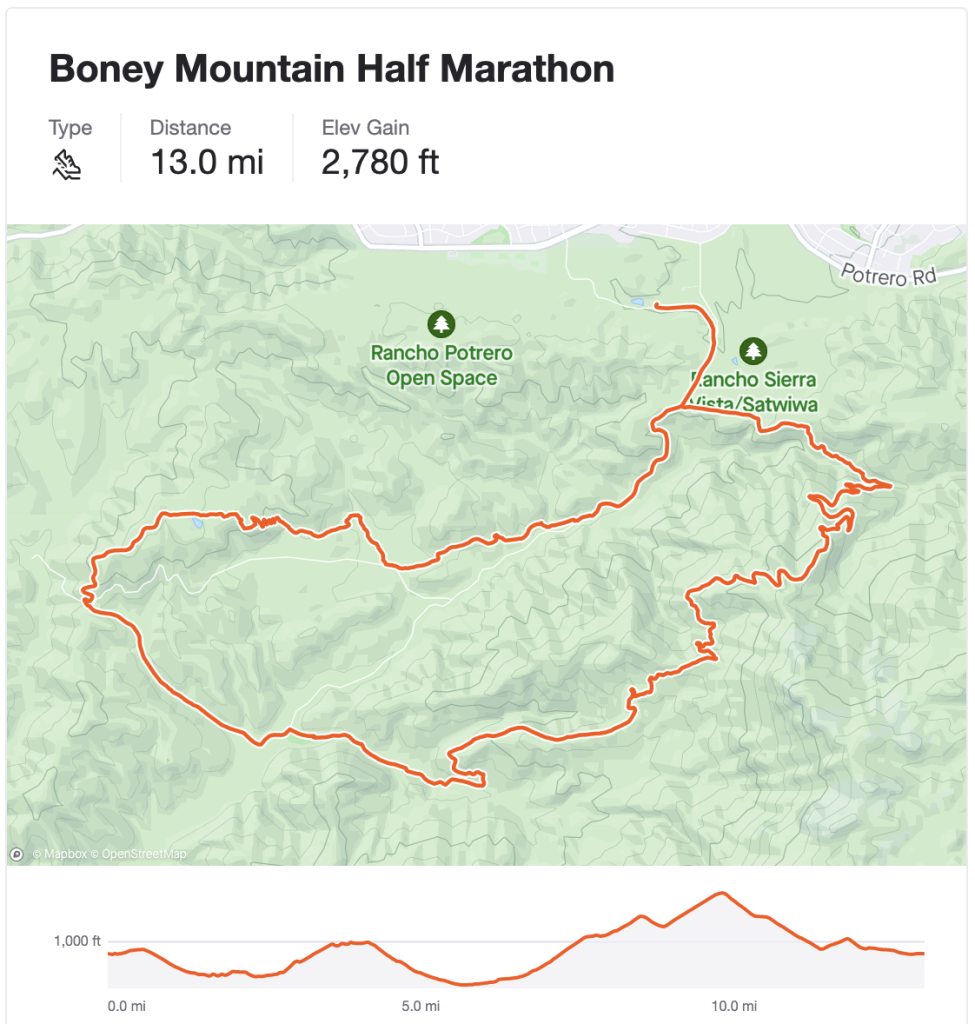 This makes sense, because Strava is not interested in your event, they want to harvest new users! If your users want to download a GPX of the course, they'll need to sign up for an account.
In order to build routes you'll need to be a Strava subscriber, which costs about $80 a year.
8. FATMAP
Pros: Great 3D maps, also free. Cons: No customization, limited POI support, elevation chart & GPX download requires users to sign up to their site.
It makes sense to follow a discussion of Strava with a discussion of FATMAP, which Strava acquired in January 2023. FATMAP is a very pretty 3D mapping platform for planning and tracking outdoor adventures. It allows you to create routes in a 3D landscape and add points of interest.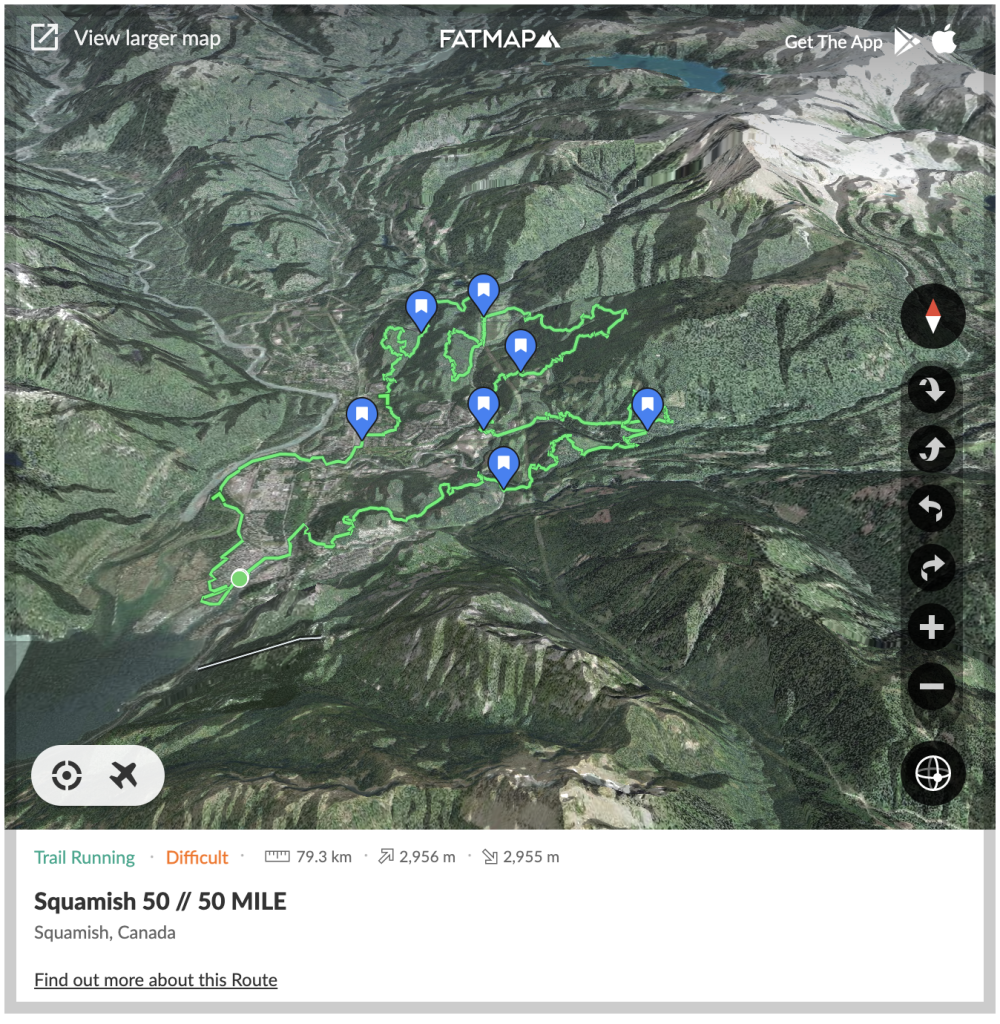 The maps look great at first glance, notwithstanding the heavy FATMAP branding and app links everywhere. There are a few substantial misses though. There is no feature or style customization. The points of interest are also limited to a "bookmark" icon, and don't allow you to provide any supplemental information about the point. The embeds don't feature an elevation chart, unless you click through to view the map on the FATMAP site, where you can eventually find one if you click on a tiny unobvious elevation button. No GPX download is available either, unless you go to the FATMAP site.
Much like Strava, they want to funnel users to their site. And the kicker again is that in order to download a GPX or view the elevation profile, users have to sign up to their platform. But the upside is that they let you use your maps for free.
The future of FATMAP is also in question. As mentioned, it was acquired by Strava and is being integrated into its platform. FATMAP by itself did not seem to have a viable revenue stream, and given Strava's focus on generating revenue through paid subscribers it is not unreasonable to suspect that FATMAP may be swallowed into the Strava platform and cease to exist.
9. Google Maps
Pros: Free. Cons: Very limited features.
Google Maps is not known for its ability to create a route, but it is there if you look for it. We'll leave you to Google search as to how to do it, as it is not intuitive.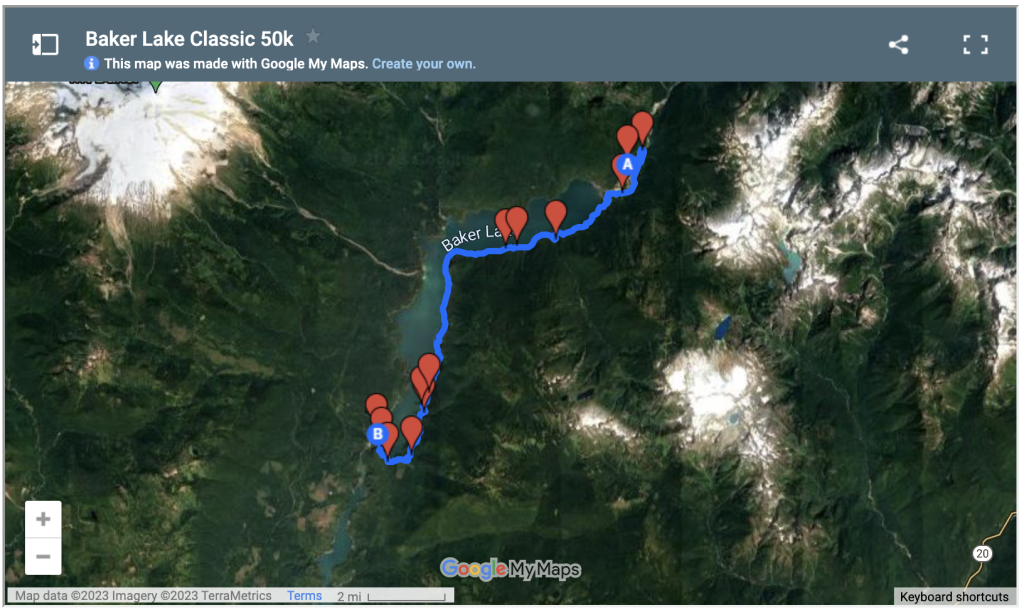 The features are very limited. No elevation chart. Very simple points of interest. It speaks for itself. Another annoying thing is that it only allows you to download the course in Google KML format, as opposed to the more standardized GPX format. But it is free.
10. MapMyRun
Pros: Clean maps with some modest customization abilities, embed functionality is free. Cons: No points of interest or advanced mapping features.
MapMyRun has been around what feels like ages. It is similar to Strava but with less of a social following. MapMyRun is an acquisition by the UnderArmor apparel company, and its business strategy appears to be to funnel people to buy UnderArmor stuff.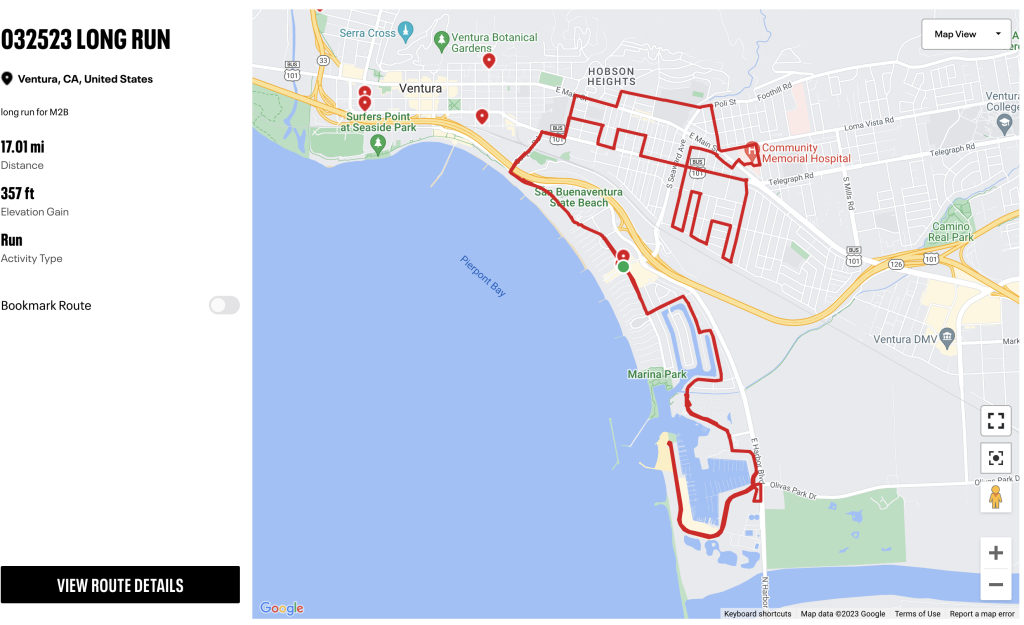 The maps are simple and clean. It is also the only mapping platform on this list other than HelloDrifter that allows at least some modest customization. When you embed, you can choose the route color, whether you want to include the elevation chart, map theme, and one or two other minor points. It's also free to embed courses on your site.
The downside is that there is no support for points of interest, no advanced map features, and doing something like a GPX download requires the user to sign up for the site.
* * *
That wraps up our roundup of course mapping tools. Did we miss anything? Let us know here.